From the time I was about eleven years old
1 March '57 - 1 December '60
From the time I was about eleven years old, all I did was dream about boats and sailing. An old family friend had a thirty-six foot sloop that they raced on San Francisco Bay, and one day my father and I were asked to go along. The owner was looking for crew, and this could have been the beginning of a regular berth. Except for the fact that my Dad didn't have a very good time… but I did. I loved it so much I could think of little else.

That led to another invitation, but this time Dad stayed behind, and I became an extra hand and go-getter on this classic Bay racer. During the spring and summer months we were going out almost every weekend, and the sailing life was sucking me in deeper and deeper. My day dreams and doodles always had sails.

Elinor Cross, the captain of the boat, knew of an eight foot sailing pram that was for sale. I had money saved from mowing lawns and working on the ranch in the summer. I didn't know how I'd manage any of it, but I had to have that boat. I conned my Mom into taking me down to see it, and bought it the same night. We had to leave it there until we could figure out how to get it to our house!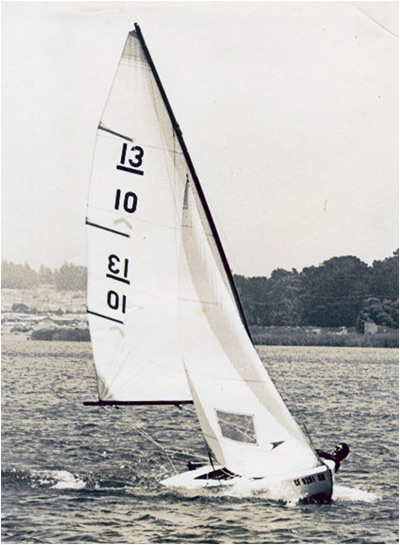 The solution to transportation was really quite simple. The Lake Merced Sailing Club had a large storage area for members, and of course, that meant I got to be a sailing club member too. I could ride my bicycle from my house to the lake, carrying my sail and some spare clothes. Then I would haul the little boat from the shed, launch it and rig, and then float away in my solo fantasy world.

Dreams of ocean voyages, landing on uninhabited shores, and exploring the world, were my companions for all those quiet hours sailing up and down the lake. Devising new sheeting methods, thinking about sail shape and how it all worked, and finding boatspeed indicators in the sounds and feel of the sensitive little craft, were leading me into regular racing.

By the time I was fourteen, I had raced my little pram everywhere on and around the Bay, and was beginning to crew for many other people on their dinghies. Snipe, Blue Jay, International 14, Lido 14, International 110, Thistle, and Flying Dutchman were all becoming familiar. And I wanted more boat too. There was a one design class called the Coast 13 that was popular at the lake, and most of the top racers were in this little fleet. The boat was like a little Snipe and could be sailed alone or with a crew. When it blew thirty knots, which it did a lot at the lake, they were planing around, and planing was the fascination.

I did another con job on Mom and she helped me to get the new boat home and in our garage. It barely fit inside with the car, but that didn't matter. The first week I owned it I practically slept in it. And once I convinced my parents of the virtues of attending regattas, I even had a tow to get me to the various races. Sailing became my sport, my dream, and absorbed every spare minute of my days. This was the real beginning of my life with the wind.