Mauisails Carbon Booms
The state of the art carbon booms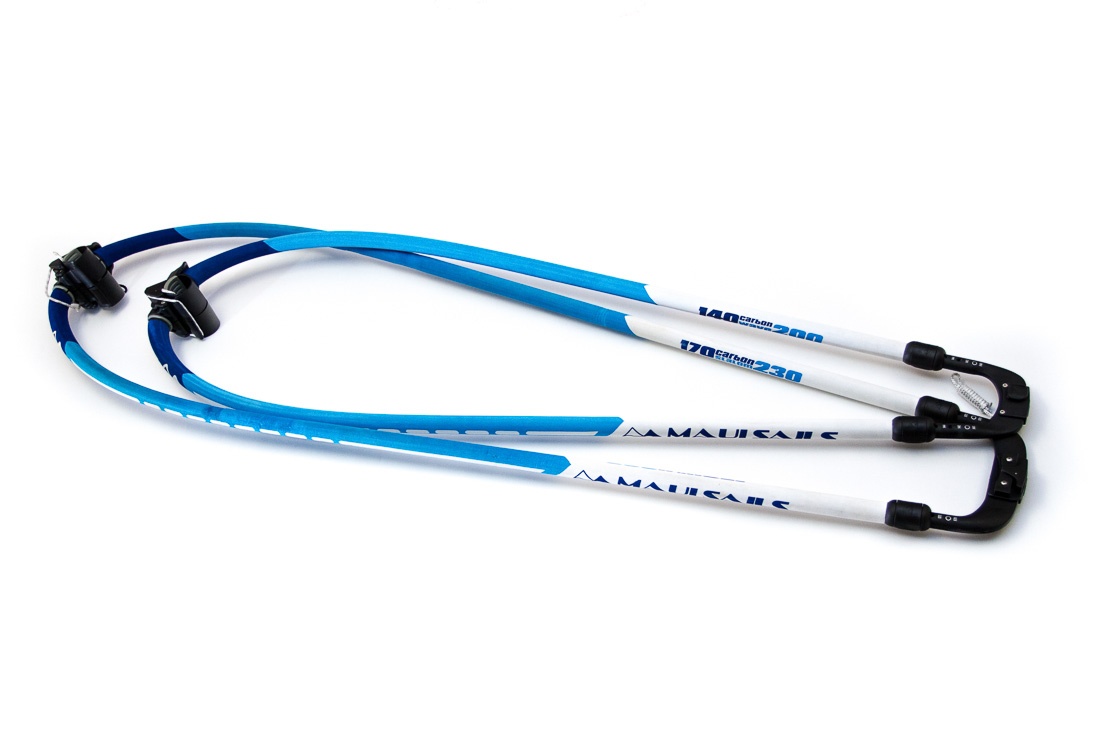 CARBON BOOMS

It's been many years with the graphic unchanged and along the way we have been continuously improving small details. The adjustment clips have gone through a big evolution to prevent the corrosion that affected them (we had to chrome plate the 316SS pins!), and the clip bodies were made stronger as well.

Small adjustments to the layup and material specs were made for the Race 190-240, and for this year, there is a wide tail slalom version of the Slalom 170-230 (the tail piece retrofits both the Wave 170 and 140). The new grip design is a 'statement' for 2012, and also has less pieces and a slightly harder character to improve durability.

So the boom is 'new' in a sense, but it is still the same old super strong, stiff, perfectly shaped one you might have known before.

Using moulds developed and owned by MauiSails, and designs with unique bends and diameters, assures that our full range of carbon booms is exclusive to MauiSails in every regard. All plastic parts are designed, developed, and molded to create these special products, the recognized highest standard of carbon booms in the windsurfing industry today.

Huge steam heated press moulds are the core of the complex process. These state-of-the-art carbon booms are formed using pre-preg carbon fiber to produce the best weight to stiffness possible in composite carbon construction. The tested and proven proprietary frontend is designed to perfectly mate with the 40mm diameter monocoque boom arm. Each boom size is purpose specific, from the Carbon Race 250-310 with large diameter tubes and continuous tail piece with built-in adjustable outhaul pulley system, to the Wave 140 with full length 30mm grip for super hand comfort and control.
Technical features
High Stiffness to Weight with double tapered tubes. Race booms are 40mm at the front and back, with 35mm diameter backends, and are the stiffest in the industry.
50 - 60 cm length adjustment covers a large number of sail sizes.
Smaller 30mm diameter of the wave booms makes for comfortable grip.
Monocoque Construction in Pre-Preg Carbon for maximum stiffness and durability.
Efficient energy Transfer with MauiSails designed Front End configured for Formula Race Boom performance and available on all MauiSails booms.
MauiSails Front End designed for easy on / easy off function.
Boom adjustment clip bodies modified for greater durability and strength.
MauiSails Front End features 25% more surface contact (120mm) with mast to reduce stress on mast connection with zero slippage.
Included Adjustable Outhaul kits and Wide Tail backend with Race booms and Carbon Slalom 170.
Redesigned Double Pin Rear End Clips increase durability, stiffness and torsion rigidity.
Molded Precision produces perfect tolerance between the Boom Body and Rear End for smooth and easy adjustment.
High Performance grip surface is durable and easy on the hands.
THE TEAM tested and approved Boom Arm Curves and Overall Width (Arm to Arm distance) maximizes sail performance.
Specification

name
min length
max length
max width
outside diameter
frontend
backend
sail range
weight
Carbon Wave
130
180
45.5
30.0
MauiSails
Loop'n'go
2.9 - 5.3
2.10
140
200
45.5
30.0
MauiSails
Loop'n'go
3.3 - 6.7
2.20
170
230
50.0
30.0
MauiSails
Loop'n'go
4.8 - 8.5
2.54
Carbon Slalom
170
230
50.0
30.0
MauiSails
3 pulley with cleat
5.1 - 8.5
2.95
Carbon Race
190
240
55.0
32.5
MauiSails
3 pulley with cleat
6.5 - 9.5
3.35
230
290
68.0
32.5
MauiSails
Wide race triple pulley
8.4 - 12.0
3.80
BUY CARBON BOOM ONLINE

SELECT PRODUCT MODEL AND SIZE
Please note that all MauiSails WAVE Carbon Booms comes with RDM boom shim included and all SLALOM and RACE Carbon Booms come with Adjustable Outhaul System included.

MauiSails Boom Front End
A good boom is much more than some carbon tubes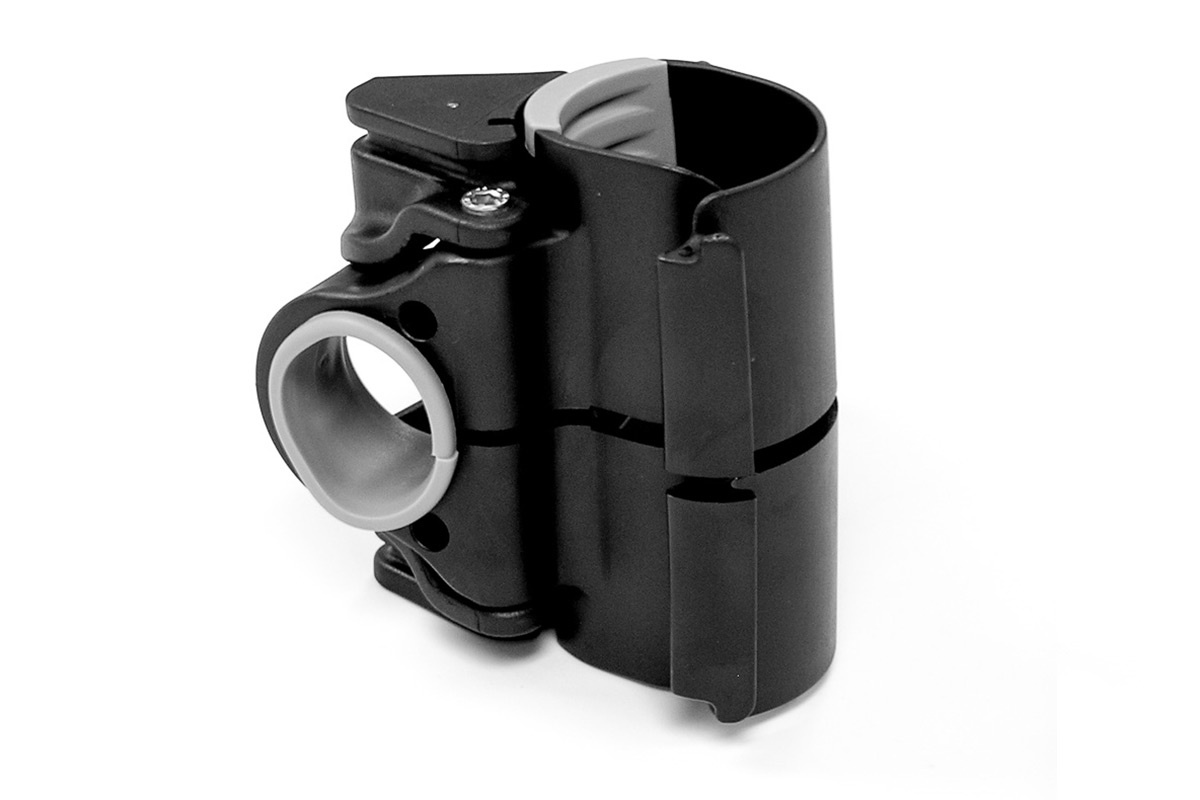 BOOM FRONT END

A good boom is much more than some carbon tubes. The key elements of the whole system are also the length adjustment locking parts, and the boom head that attaches to the mast.

The design of boom heads has undergone regular evolution, but much of it is far behind the development of the larger rigs. So the result is that you may have a pretty good set of tubes that may be stiff and strong enough for the larger sail, but they are connected to an older design head that isn?t. This will make you have a wobbly connection regardless of the stiffness of the tubes.

When we conceived and designed the new MauiSails Carbon Race booms, the shortcomings of the available head designs (as well as the good things) were considered. We wanted a unique and durable head to go on these great products.

Using Rapid Prototyping we were able to see the functioning part direct from tooling drawings, in one off versions that only took a week to execute. This let us play with the levers, cleats, and other relationships without having to wait months for tooling to be finished. And we could see potential for failures and correct them as well.

There are potentially thousands of active sailors with carbon booms from many manufacturers who will appreciate the value of this quality upgrade. The MauiSails Boom Head is simple and inexpensive to retrofit and will make almost any set of boom tubes seem like a whole different experience.

buy front end online

SELECT PRODUCT MODEL AND SIZE
IMPORTANT NOTE
Only low pressure required here
The MauiSails boom head and clamping lever is designed to be used with the MINIMUM tension required to keep it from slipping on the mast. DO NOT OVER-TIGHTEN or you will risk damaging the part.
All metal parts are subject to corrosion. To keep your boom and its small metal parts in top shape it is recommended to thoroughly rinse with fresh water after each use, especially the tail clips and pulley assemblies.
Please remember if you are going to use our boom head with RDM mast you will also need a boom shim dedicated for MauiSails Front End.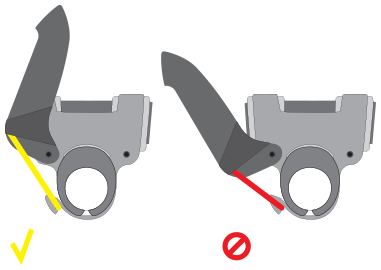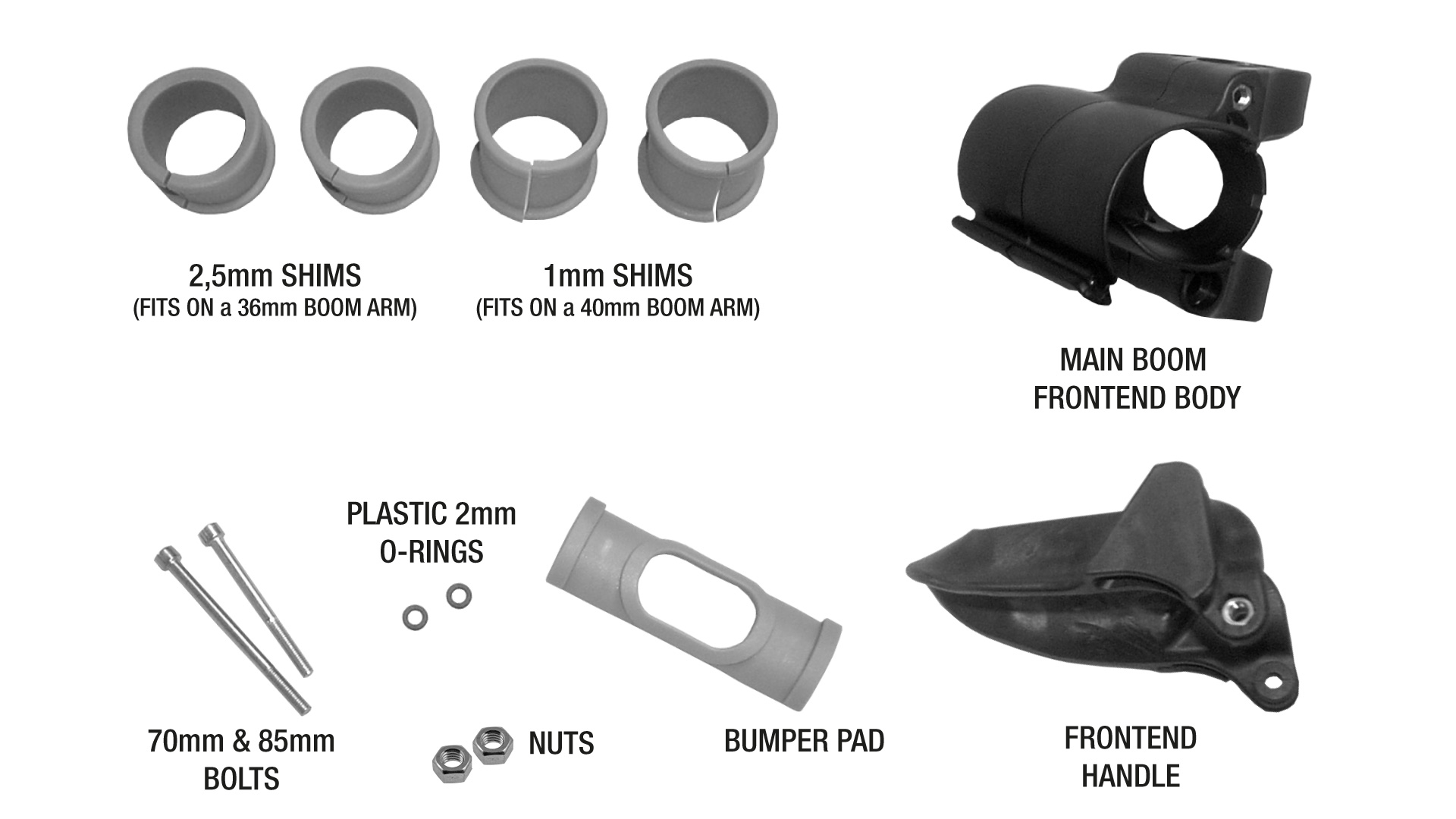 MauiSails Frontend Parts

Complete front-end parts
1x 85mm bolt
1x 70mm bolt
Frontend lever
Main boom frontend body
2x 1mm boom connector shims (fits on a 40mm boom arm)
2x 2.5mm boom connector shims (fits on a 36mm boom arm)
2x plastic o rings spacers
1x mast shim
Boom arm diameter
If your boom arm has a different arm diameter than 36mm or 40mm you can alwasy build up a thickness in front end area.
Please remember if you are going to use our boom head with RDM mast you will also need a boom shim dedicated for MauiSails Front End.
Boom Head Assembly Instractions

MAUISAILS booms parts
A good boom is much more than some carbon tubes