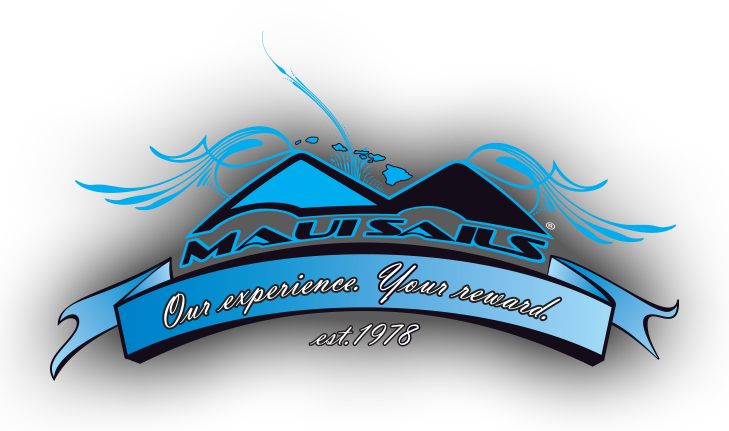 World renowned sail designer, Barry Spanier, teamed up with the veteran racer and former PBA World champion, Phil McGain, in 1999, to use their experience in leading edge windsurfing technology and Research and Development to provide the tools to win the Overall World Cup title in 2000. That team went on to win five more titles since 2000, and became one of the premier development groups of today. Barry Spanier and The Team at MauiSails have led developments in all aspects of the sport since 1978, and continue to lead the way today.
The name MauiSails has been synonymous with high performance windsurfing, including designs for world speed records and for providing designs and prototypes for more than a decade long domination of PBA/PWA World Championships. When Barry Spanier made it back to the magical Island of Maui after his shipwreck disaster in 1978, he was enchanted by the ambiance of this unique spot in the middle of the Pacific, and decided to make it his home base. After twenty-five years in the industry, the revival of MauiSails has been the natural step for the people who are driven by the pure passion for windsurfing. MauiSails represents these people, their ambition to make best sails, their pursuit to popularize an extraordinary lifestyle, and their vision of how the windsurfing world should appear in the twenty-first century. What matters most is helping windsurfers enjoy time on the water, regardless of the location or the level of their performance.
The MauiSails philosophy is about showing people they can do great things, that they can pursue their dreams, even if they seem impossible to come true. When you come to Maui and you're sailing off the North Shore, you turn to catch the next wave and look out to see the two mountains, with pure adrenaline in your veins and that feather light trim on your sail... that is the MauiSails feeling.

It is the passion for a sailing life that drew us all together to do the thing we love most. ...MauiSails.... The TEAM... the windsurfing company.
1978 – Barry Spanier and Geoffrey Bourne meet in New Zealand and worked together rebuilding the Constellation, an older 76' wooden schooner. When finished in mid-July, they left New Zealand sailing on Barry's 38' cutter, Seminole, to the New Hebrides islands. Two days later they were shipwrecked on tiny Arrid Island, all hands were safe, but the boat was a total loss. They decided while sitting on the rocks, cold and wet, that they would go back to Maui and start a sail loft. By November they were back home and opened MauiSails in the building at 111 Hana Highway in late December.

1979 – MauiSails begins fixing windsurfing sails for Mike Waltze, Matt Schweitzer, Alex Aguera, and Charlie Dale. They are the first to sail Ho'okipa and need lots of repairs. MauiSails is also building many sails for large yachts and building a reputation for quality and durability.

1980 – A giant storm wrecks most of MauiSails yacht customers. Fortunately the windsurfers decide to have new sails made, and soon the Europeans on Oahu have discovered the radical and different designs. A sliding mast track is developed for the Pan Am World Cup in Kailua, and MauiSails gains recognition world-wide. We help to organize the first Schweitzer Speed Trials at Maalaea Bay, and the Arnaud de Rosnay Speed Crossing of the Molokai Channel. HiFly Corporation buys original "FatHead" designs for Hong Kong production by Neil Pryde Sails.

1981 – MauiSails opens the original retail store at 111 Hana Highway. We host another Schweitzer Speed Trials where Jaap van der Rest sets a new world record at a little over 22 knots. Sails evolving almost daily. TriPanel concept of vertical luff panels is developed to allow higher rig loading not possible with horizontal seams only. The Homoicthyarian is born. Custom Genetic Mutations…we build to suit.

1982 - We are developing the Hip Harness concept, isolating the load at the middle of your body. The TriPanel is becoming a sail for racing at the PanAm World Cup in sizes like 61 and 69. Windsurfing Japan buys designs for these two sails for production later in the year. Geoffrey goes to Hong Kong with patterns and Neil Pryde contracts us to be his exclusive sail design provider. A PanAm 61 makes it into the hands of Pascal Maka in the fall, and he sets a new world record (27.83 kts) at Weymouth, England.

1983 – Fred Haywood approaches Barry with a plan to break the record. We are developing TriRadial wave sails and building full batten speed sails in newly available polyester film/taffeta laminates. Wing masts from Dimitrje Milovich become part of Fred's record breaking rig at Weymouth (30.83 kts). The record, The Wing, the story was propelling us to reach after every possibility in development and most of all, to do constant testing. The sailing every day was really hard on us. NOT!!

1984 – Fred is on the cover of Life magazine in famous photos by Arnaud de Rosnay. He is using TriRadial 5.3. By April we were presenting a new rig concept called the RAF. In conjunction, there was a special clamp-on boom head that could be closed with a simple lever. More Wings for 'the big show' at Weymouth, a Speed Team to supply, and nothing but going faster and faster driving the days. Wave sails became The RAF Wave, pink with day-glo chopstiks. Though independent, MauiSails was melting into that other brand. But the sign outside still said we were there.

1985 – Being in Maui, the center of the new windsurfing universe, we attracted a lot of the early talent on the professional team. Waltze, Schweitzwer, Allan Cadiz, Kelby Anno, Suzanne Gedayloo, Dana Dawes, and Debbie Brown all became regular visitors to the loft. Another year of Speed full time. Fred gets the 10 square meter record at Woodman's Point. We put the wing away to make better sails for normal masts.

1986 – RAF Speed is the sail of the moment, a dedicated outline for going fast proves to be hugely popular. Racing against early cams and staying competitive. Wave sails are benefiting from segmented seam shaping. The RAF Wave joins up with young Mark Angulo, and we see things happening in surf never done before.

1987 – Still speeding along, chasing it all over the planet. Wherever there was a spot that blew stupid and had flat water there was a reason to go there. Slalom racing is beginning to be part of the competition scenario. Now you needed racing and slalom sails… and speed sails were not so new anymore. Records were falling with the new spots. Speed was hard to be involved in because half the time there was no wind. Imagine that!

1988 – This would be the last year for a speed sail in the line-up. Developing cam systems and pushing the racing limits was a daily focus. Wave sails diverged into 'soft' and 'hard', and The Combat Wave was born on the floor of 111 Hana Highway when the marketing director saw the abbreviation COM / BAT (for combination batten) on the pattern. He said COMBAT, and that was that for ten years.

1989 - Barry is assigned nineteen year old Bjorn Dunkerbeck to work with developing a World Cup Slalom sail. Using the new sails, he finishes the year winning in Maui and will go on to win eleven consecutive World Championships powered by sails out of 111 Hana Highway. Bjorn uses Combat Wave now too.

1990 – 1999 This was the run together memory fog of that brand. Endless hours of recuts and prototypes, a crew of six working like fools making a team's worth of custom sails. A literal million miles of travel. Trade shows and meetings, races and dealer visits, all blended into what can clearly be spelled out as simply nine world championships. Ask for something specific that stood out, and I'd be saying making sails for the tri-foiler "Longshot" and some new world records. Chase the new for fun.

1996 – That brand buys Spanier & Bourne Sailmakers. Barry and Geoff retain the MauiSails brand. We build a flashy store in a new location, and it is opened and called MauiSails. In 1999 the name is changed to 'that brand Maui'. We get the old neon signs and a few momentos.

1998 – 1999 Barry, Phil, Matt Pritchard, brother Kevin, and Scott Fenton form The Team after parting with that brand. They take over another of the oldest brands in sailmaking and revitalize it from the ground up. The goal is selling 25,000 sails per year, and to dethrone the eleven time world champion. We would get close. Just a few points away.

2000 – Concentrated team effort and Kevin Pritchard's unique skills saw the old brand returned to prominence again, and the former world champion would not get thirteen.

2001 - 2004 A global brand building exercise again with manufacturing roots all over the world turned into another blur of development and creativity. But disparate opinions led to The Team choosing to leave the brand and see what would come. Christmas 2004 was a time of uncertainty and change. What would we do now?

2005 – MauiSails makes sense and is taken from the drawer and exposed to the world again. The logo is redefined to represent a view from approaching the North Shore, while the old logo was a South shore view. And the spirit of innovation and the search for the best sailing gear was renewed as well. We had plenty of experience in our group, we knew what we wanted, and it was the only logical thing to do after all the years of doing it for someone else. MauiSails is back again!

MauiSails Hawaii