30 years of MauiSails 30 years of Experience
21st December 2008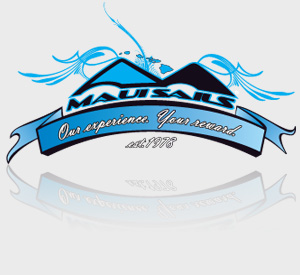 Twas three days before Christmas
Thirty years ago to the day,
Geoff Bourne and Barry Spanier
Shifted into work from play.
Maui needed some sailmakers,
There was so much to do,
A genuine service to all,
And endless fun too.
The boys made plans and agreements
And for what it was worth,
Created MauiSails and the logo.
To look like the best place on earth.
There were visions of mainsails
And genoas for a yacht,
Covers and awnings
So you wouldn't get hot.
The lease for the loft
Was signed and sealed,
And 111 Hana Highway
Could now be revealed.
With almost no money,
only a dream and some skill,
The boys headed out
To build some good will.
Soon there was plenty to do.
Worn leeches, torn corners,
Add some reef points too.
Sew giant rips, and rebuild a clew.
The little business soon grew and grew
And windsurfers who found them
looked for something new.
The boys told those guys,
"We'll see what we can do!"
It didn't take long
To make something better and new.
Soon if you wanted a MauiSail
Waiting and hoping was all you could do.
But now things are better
You can buy them everywhere,
The design and performance
Still are hard to compare.
So on this Winter Solstice of 2008
Remember December 22, 1978
As the beginning, now thirty years on.
They're still doing great things,
And still having fun.
Aloha from the crew at MauiSails and Best wishes for the winter holidays and beyond. We are proud to be part of this fantastic sport of sailing and look forward to many more years of bringing new ideas and quality innovation for everyone. Join us at www.mauisails.com for an update on the current activities and dreams of the crew in Hawaii, with special thanks to Bogo in Poland. Here's to another great year in 2009.
Check out MauiSails timeline.
Aloha
Barry Spanier