2012 PWA Podersdorf, Austria - Taty Frans report
3rd May 2012
After the slalom event with my 11th place finished in Italy regio de Calabria. I flew to Austria Vienna to compete in the 2nd PWA World Cup event and this time it was freestyle competition.
Just thinking that I have to compete in Freestyle after the slalom and knowing that all of the other freestylers did train and concentrate only on one discipline the whole winter got me nervous.
I rather do freestyle first then slalom because for my mind and body is a better option as I can really concentrate more on freestyle and still be doing all the moves without thinking so much and after I go to slalom it will be easier with jibes and my concentration for slalom then is better. But maybe by doing slalom first in Italy and then doing freestyle this time got me more relax???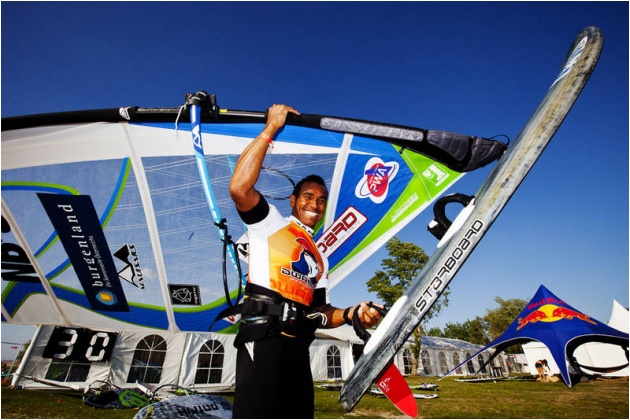 The first two days of the event the wind didn't kick so strong. Some heats got started and then had to cancel due to gusty and big holes of no wind in the competition area. I believe for the head judge Ducan that was stressful but even for some riders it was hard to stay on the water the whole time being stand by as the wind was more on the outside on the lake so the judges had to be on a boat full day and to really push for having result in this event. As the wind forecast was looking promising for the next 2 days the pressure was really to go full power on those days to get the single done and if there was time to even do the double.
HEATS DURATION
Head judge DUCAN decide to do 12 minuuts heats and 3 minutes transition, so each heat will take 15 minutes to complete, This might be the only option or way to really get results and was a fair heat time to have each rider finish 8 out of 3 moves done on each tack and really get the rider to get the best moves they have to impress the judges.
WIND
The wind we got during the days that we finished the single elimination was pretty gusty strong/light, I would say at times 25 knots the max and 15 knots minimum.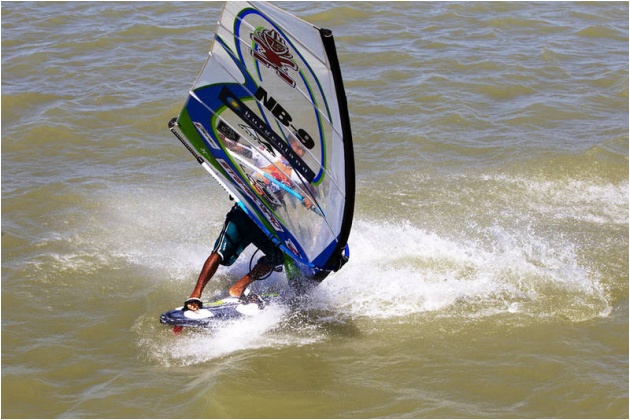 SAIL SIZE
Most of the rider where on 5.4-5.6. While I was on my 5.2 Loco 2013, the whole time and was the biggest sail I have brought to Austria. The New loco really is an amazing sail, I could have really accelerate earlier then anyone else even in the lightest wind gust and still have good air moves:) The truth is for the last 2 years I couldn't find the balance the feeling of easy ducking easy control on the 5.2 like the 4.8 loco have but the 2013 loco 5.2 IS AMAZING:). The sails I came to Austria with was Loco: 4.4 4.8 and 5.2.
BOARD SIZE
While most people where on their 100 + liter board. I was on my STARBOARD flare 91 wood/carbon with "new" Taty style Maui Ultra fin 16cm.
WEATHER
It's just Amazing, for the first time in 5 years that i am coming to Austria for the PWA events, we finally had warm weather, walking in Board shorts the whole week and on the water in a short wetsuit was the perfect choice:).
THE HEATS
My first heat was against Adam Simms: boy I was shaking I couldn't put my act together and was pretty nervous, the horn for green flag, I started of with a culo while I saw Adam went for the same but didn't pull it of nicely, thus some how I got in the zone and just sailed a good heat with out crashing any moves and pull the basic moves as the horn for red flag, I was still shaky but I won heat by far sad the judges.
As I was heading back to the beach to relax and wait for my 2nd heat, I was talking to myself and trying to get in the zone and put some heats in my head. It was the first time in awhile that i didn't felt like this, damn boy.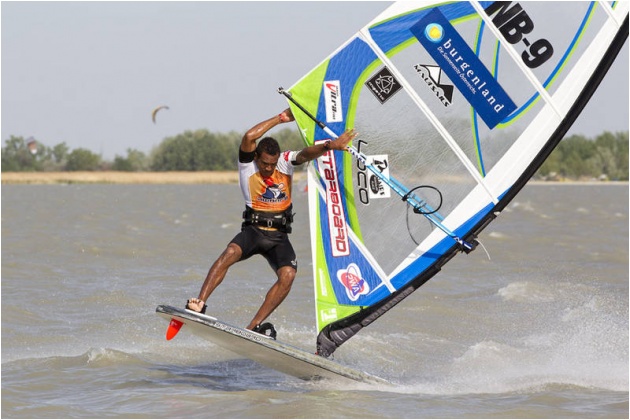 2nd heat:
My 2nd heat in round 3 I was against Yarden emir. I got more relax and started of first move on the green flag with a chacho"one of the most technical moves" I made this perfectly and with just this move it got me fired up to be most confident thru out the whole heat against Yarden, I know he didn't sailed a bad heat but I knew I won this heat as I did all my moves with more power with a good height and clean.
3rd heat:
This heat was in round 4 against Davy, Knowing that he is a great sailor and a strong opponent in light gusty wind as he is used to in Holland, I knew I had to really keep my motivation and make sure that all my moves stay as I did in the previous heats or better. I was no longer nervous, I got my act together and was ready to sail a good heat, the wind build in just perfect, green flag, air flaka, switch chachoo diablo, kono both tacks, culo, chachoo and more i just didn't stop jumping spinning around until that horn for red flag. I felt so confident that I knew I won.
With me winning the heat against Davy got me a on the way to the top 4. Which will be: Gollito - Kiri and Taty - Steven. It's all I wanted to just be in the top 5 at this event, Before I came to Austria. I said if in Austria I finished 5th I'll be happy, so with me in the top 4, I was feeling so good.
4th Heat:
This heat was same heat I had in 2010 with Steven against me and I had the same feeling that I had in 2010 when I won the event. I stick to the heat I made in my mind before the heat started. Best feeling ever, air triple flaka on the green flag, punch, kono both tacks, cull, chacho diablo, double moves on both tacks, I was just feeling like I am having a good time and sailing relax and with the Loco 5.2 giving me such a good time on the water with easy handling and just nailing each moves that I go for, I am sure I was on a good road.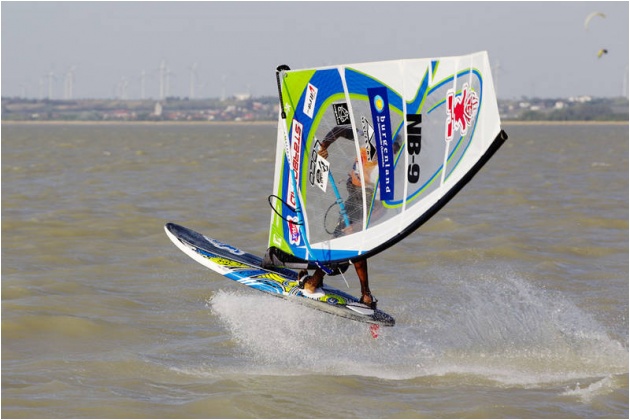 The judges waited 10 minuuts to give out the results but while I was waiting on the water and with Steven on the judges boat doing something don't know what, Juan look to me and gave me a thumbs up sign and I couldn't believe it, I ask him like 3 times are you sure that i won he say yes you won by 3-1 decision I just start screaming, men this made me so happy. I am on to the winners final. While Gollito won the heat agains Kiri with a pretty close call.
Winner final was: Taty-Gollito
Loser final was: Steven-Kiri
Knowing that I won Steven and was in the winner final, was a really unexpected thing for me, and I was so happy and couldn't really focus on my next heat that I was pretty much no longer in form that I crash most of my moves and made it to let Gollito win the heat with pretty good moves.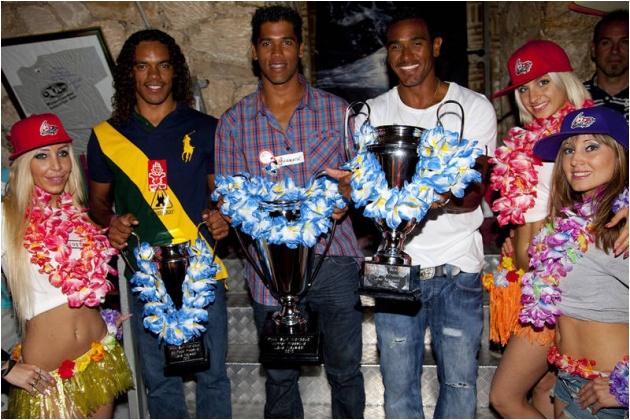 I really didn't expect this and finishing second was a great result for me. Having everyone telling me that i was looking really motivated and that my level of freestyle really improved and got more powerful and that I truly did improve made me think that I could do better in the next freestyle event and i have the potential to be in the top.
My Loco's are working better especially the 5.2 and my starboard flare freestyle boards are the best so, I'm sure I have a good gears.
Next event will be SLALOM in KOREA.
TATY FRANS NB-9
Photos : PWA/Carter