2013 AWT Santa Cruz Goya Windsurfing Festival
3rd June 2013
What an amazing event it was to kick off the 2013 tour. Head judge Keith Teboul fit in a full double elimination contest over three days with an insane amount of action.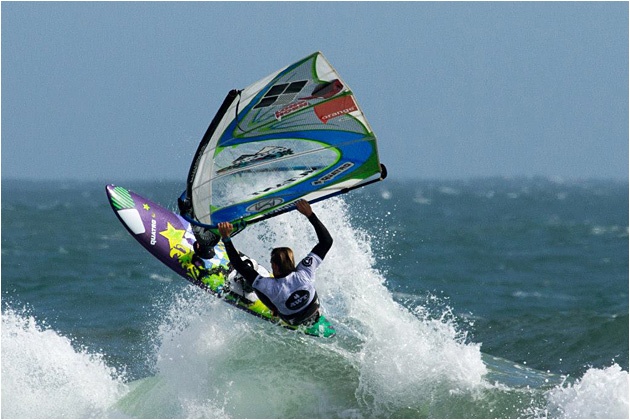 Men's Pro
The Double Elimination ended with head-to-head battles against each of the finalists from the Single bracket. Juban narrowly defeated Morgan Noireaux in the first man-on-man heat earning the right to take on Bernd Roediger. Juban was on a roll and advanced to challenge Levi Siver in the Quarter Final for 3rd place. This was a super close heat with Siver taking out Juban with his Wave360 as the heat came to a close. Both had big jump scores with Siver sticking a nice one-handed Back Loop and Juban nailing a tweaked Push Loop. The semi final saw Brawzinho aginst Siver. In the end it was Brawzinho who had better scores and advanced to meet Kevin Pritchard in the final and winning the contest in the end.
Here is Camille Juban comment - Once again we were pretty lucky on the conditions this year in Wadell, Casey and Ingrid did really good in the single elimination. Casey went out on the quarter final and me on the semi but we got a chance to come back in the double elimination as the condition were a little better, the 4.2 Mutant was the sails I used in every single heat and it couldn't better. So I did came back in the double by winning 4 heats until the heat against Levi Siver where it was really close but I lost and took the 4th place. I'm now motiveted and can't wait for Pistol River to fight back.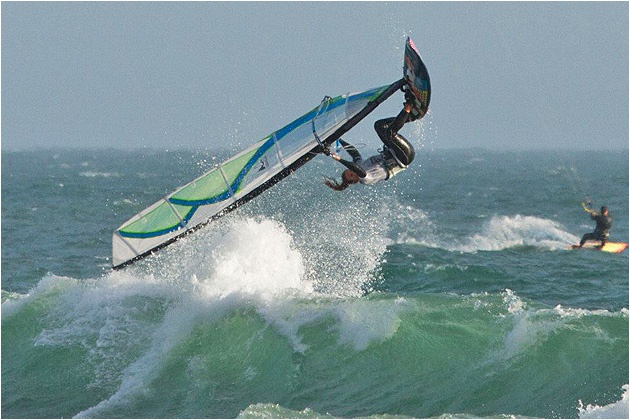 Women's division
With only one rider advancing to the final, Wylde was on fire hitting some aggressive lips and earning the right to battle Ingrid Larouche for the title. Over the next few contests expect to see these two women match up in some heated battles. Larouche's experienced shone through with her scoring the best wave of the heat and her clean Forward Loop made sure she defended her title. Congrats to Ingrid Larouche, the AWT Santa Cruz Goya Windsurfing Tour Womens champion!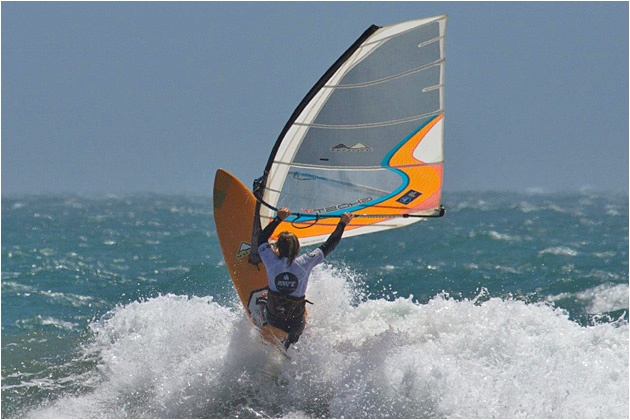 Masters
The Masters final also took two heats with defending champ Brian Caserio up against Ferdinando Loffreda. Caserio scored better in the rematch but it wasn't enough to match Loffreda's vertical hits. Congrats to the new champ.
Comments from Ferdinando - The event was in a very beautiful place, near Santa Cruz. The AWT organized the event very well. We were all together the all contest. We had wind and waves everyday. Highlights to Browzino that showed us how he can rides waves and do tricks and moves like a VIDEO GAME good performances of Morgan Noireaux (6TH) and Bernd Roediger (5TH)..... Really good rides of Camille Juban 4th - very narrow and sharp turns some really high back loops. Levi 3rd did some really good rides aerials tweaked backloops and wave 360. KP was precise like machine, very consistent but he couldn't do anything against the stellar performances of Browzino.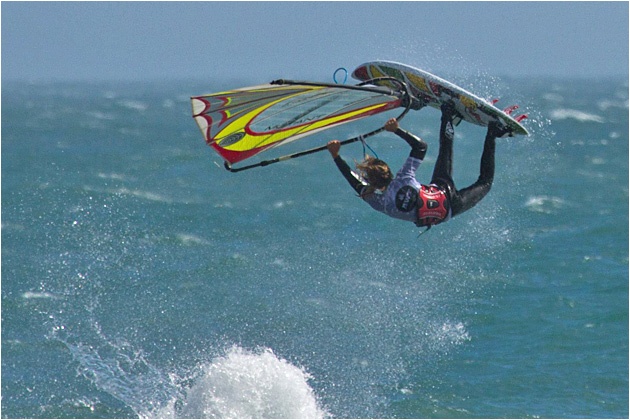 Youth
The youth final came down to Casey Rehrer against Fiona Wylde. Both looked very strong but Rehrer slashy style and bigger jumps gave him the crown over Wylde. Here is what Casey had to say after the event - Santa Cruz was super fun, the wind was a little on shore and the waves were anywhere from knee high to chest high. I sailed my 4.2 mutant every day, it was perfect in all conditions. Apart from the cold, Santa Cruz is super fun!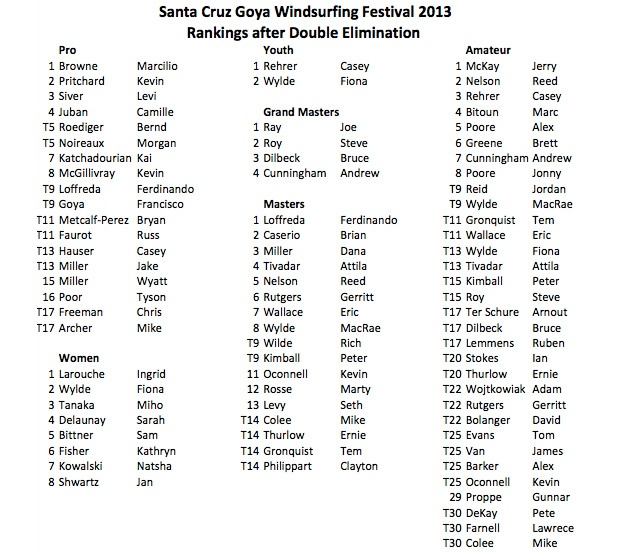 Sources : americanwindsurfingtour.com