Softwater Windsurfering
18th December 2007
Hi Softwater Windsurfers!

As u know windsurfing was invented in the 70's and was a big success worldwide. But for some guys there where more kind off swimming than sailing and after a couple of years the sport decrease in number of users.

Then, in the beginning of 90th a friend of mine Bernd Stümer, a retired teacher, invented the Isabella ice yacht. He was using his old windsurfing rig/sail on a self made ice yacht. But the yacht did not move a single inch and he started to study. After a couple of years and a lot of testing the yacht started moving and he was "hooked" on ice sailing.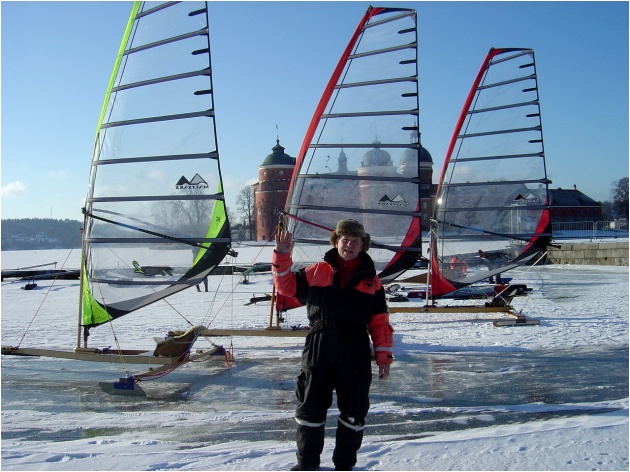 The gear he used at that time was "old fashion" dacron sail, but he was happy and satisfied with the speed, his top speed was around 60 km/h. This was quite fast in the 90's ( about 30 knots)

Then in 95's I was introduced to ice sailing of an old friend. I have been sailing in "soft" water since 63rd with different kind of dinghy's like , Finn, FD, OK and today I have a 36 foot keelboat called Rival 22 .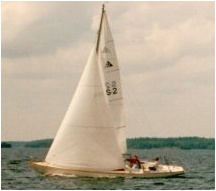 I have gain some experience of racing thru the years, both sailing and windsurfing div2, and I started to think about how to increase the performance of the Isabella and I/we made some changes with the rig and to use modern sails and the speed rally increase, the fastest guys have sailed in 105 km/h with the Isabella ice yacht, measured with GPS.

In 2004 we started a joint venture with www.vindsurfing.se. The owner (Johan Ekstedt) put together an ice sailing kit from MauiSail. I use the TR-2 7.6m sail and I am very satisfied with the outcome, in 3m/s ( 10km/h ) I have sail in 53km/h on a ice like mirror!

In winter 2005 I was told that two "old" dudes in windsurfing was going to visit Sweden. That gave me an idea! Why not take these two guys from the other side of the globe, and let them sail in my Isabella ice yacht and ice board. The biggest ice these two Maui dudes had seen before would probably be the ice in there gin & tonic :)

Believe it or not, these two dudes showed up and I really enjoyed watching Phil set of on my iceboard. I still can't believe that this actually happened. Phil McGain on a ice board built by
Me! Awesome!

Anyway… many MauiSails are now used by a lot of ice sailors in Sweden and we hope that these two dudes, Barry and Phil will show up here again for some sailing and why not bring some friends with you!

Either on soft or hard water, you are always welcome!!
Boose, (Soft and hard water sailor and Hot dog chief )