Jericoacoara 2007
1st February 2008
As I did last year, I decided again to spend some time in Brazil to train in freestyle, looking forward to the eventful season that is going to start.

I left Sardinia on Sunday October 7 onboard a domestic flight to Milan. From there, through Lisbon, I landed in Fortaleza on Monday night, after more than a full day.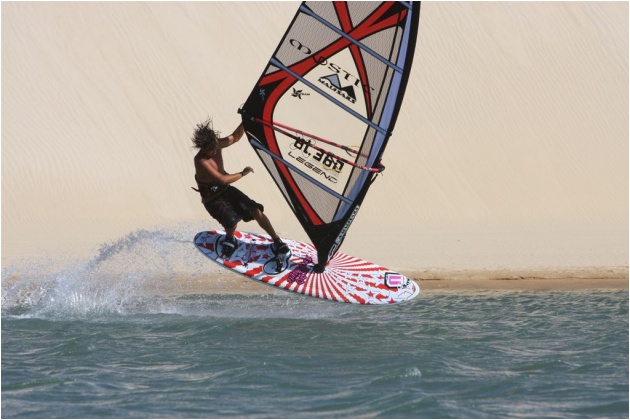 Despite Season 2006, Jerì welcomed me with truly strong wind: everyday I found sunshine, warm water and photonic winds, always above 35Kn. For this reason, my (ultrapiena è un gergo, non lo so tradurre) overfull 4.2 MauiSails Legend has been my faithful friend and fellow in this adventure away from home.

This year I decided to train more systematically, altering surfing in the main spot of Jerì with training sessions in the close by lagoons, among which I want to remark Tatajuba, where the wind blows super strong compared to Jerì, the Azure Lagoon, ideal to train on tricks starboard, and Paradise Lagoon, great on both sides, but with less constant and strong winds respect to the two previous spots.


A wonderful alternative is sailing about 500 meters downwind from the main spot. There, downwind to the great dune, you can windsurf in less crowded waters. The wind blows a little side off and stronger than on the main spot. With the low tide a nice little wave appears, ideal to jump, and between a wave and the next, freestylers geeks will find water as flat as British lawns, ideal for any trick.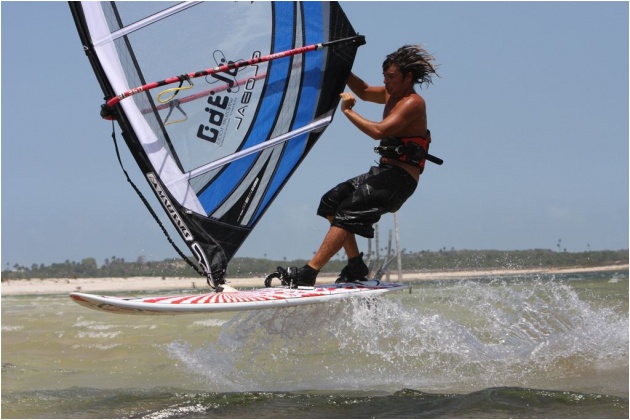 After the first month the wind started decrease in intensity, becoming exactly as my MauiSails 4.2 likes. At the beginning of December I also had to unveil my 4.7 for the last 10 days of stay.

On December 22 I travelled back along the same way that brought me to Jericoacoara. Sardinia greeted me with quite cold temperatures and low winds until the end of the year.
I spent in Brazil other three months of fantastic windsurf, very useful to my training, and now I'm ready for a season at the top.

See you in the water,
Gigi Madeddu SAR-3
Check out photos from sailing and video footage.