Do your DREAM
13th September 2012
Ever since I got into windsurfing -25 odd years ago now - Maui has been on my mind. In the early days it was all about the pictures and accompanying stories in the windsurfing magazines I'd browse through endlessly until next month's issue would arrive on the stands. Maui almost got mythical proportions as the place where it all happened: the best windsurfers, the newest gear, the best spots, and the best conditions… Maui had it all! One day I'd go and experience it for myself!
It is almost ironic, then, that it took me so long to finally get there as long distance travel has since become part of my professional as well as of my windsurfing life taking me as far as Australia, New Zealand and South America.
Although, after moving to the East Coast of the USA (Washington DC) a bit over a year now, a trip to Maui was the "natural" next step, it was undoubtedly Barry himself who finally convinced me: "You have to come over and visit this place!" So it was that Rebecca and I drove out to Baltimore airport in the early hours of a late August Saturday morning with my smallest slalom board (a SB iS86 '12 I'd thus far not used) as only windsurfing baggage. Quite a change to my beloved 12.0 TR8 as my bread & butter sail on this side of the Chesapeake! Hours later there I was: the mythical beach of Hookipa—even smaller than I'd imagined it to be.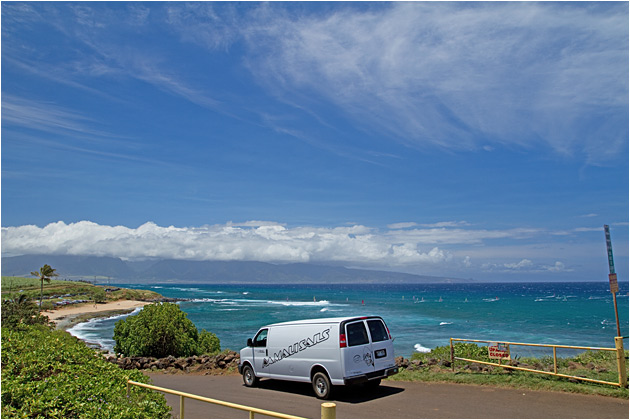 The next day Barry and Samantha invited us out on the Cornelia for an afternoon sail off Lahaina on the western leeward side of the island. Perfect to relax and recover from the jetlag—also as a week earlier I'd been on month long coast-to-coast trip in Africa for work. Such a great experience to finally meet this Living Legend of Windsurfing about whom I'd read so much and with whom I'd exchanged so many emails over the years, ranging from sail design—of which I know nothing—to the intricacies of global finance—of which I know even less! A life dedicated to sail design, sailing and… just making things better!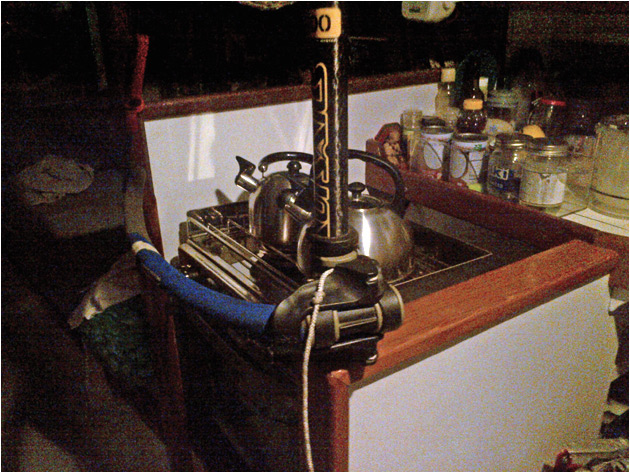 From there on our week on Maui basically went like a flash. At Kanaha—slalom sailors paradise—we met up with Phil, the ironman who had just taken on Hydroptere on SF Bay. Phil was so kind to lend me basically half his TR8 quiver from 7.0 down (7.0, 6.3, 5.9, 5.5 and 5.1) all of which I thankfully used over the course of the week except the 5.1. It was such a privilege too to be given sailing tips from Phil, one of windsurfing's greatest racers—in particular on how to improve my jibes. And although "my speed was good" he'd still blast past me—of course! Kanaha is also the place on the island to team up with the local Maui Sails riders all of whom are super fast and super cool sailors—Tam, Sam and Mike just to name a few.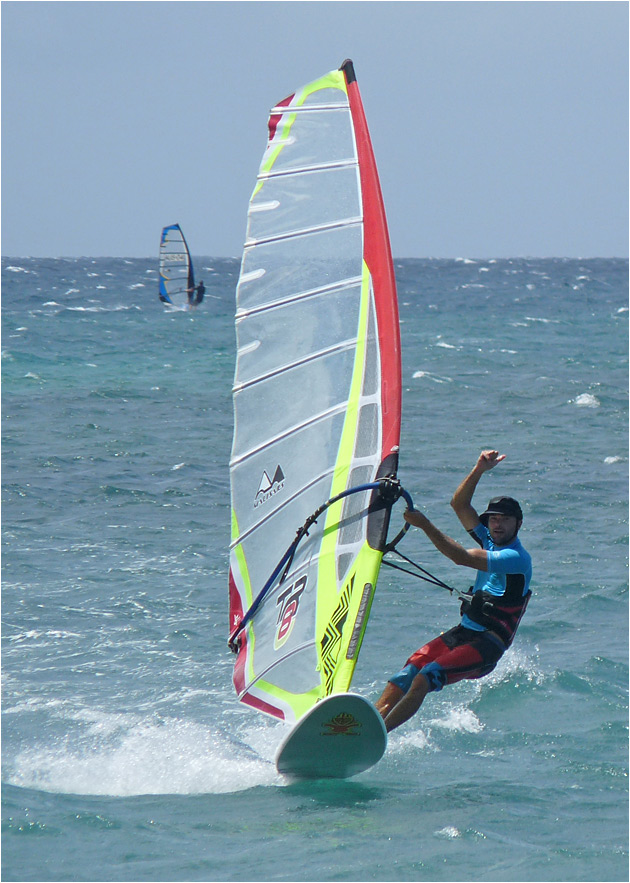 The windsurfing highlight of the trip was undoubtedly the long distance trip with Phil and Tammy from Hookipa upwind to the lighthouse and back. Powered up on small sails (6.3 for Phil, 4.7 for Tammy and 5.9 for me) we sailed nonstop for about an hour, enjoying the stunning nature of Maui's north shore—including its marine wildlife: turtles, flying fish, dolphins and… sharks?! It only added to the adrenaline rush of sailing off the world's most iconic windsurfing beach.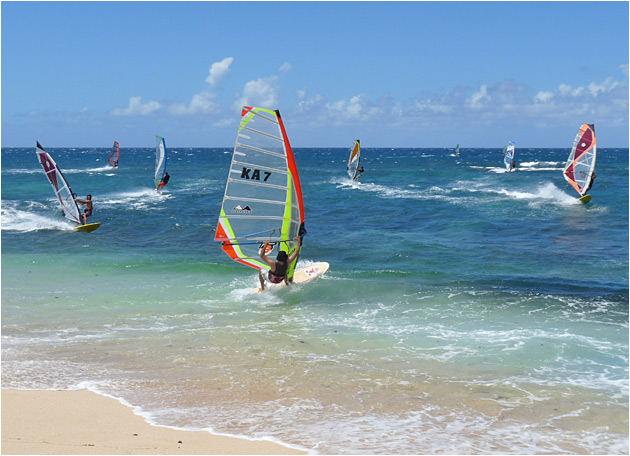 And then.... It was time to go home. I hardly remember what else we did... Going swimming at Twin Falls, driving up the Haleakala - in my next life I'll train with Phil and cycle up... all 10,000 feet - visiting the MauiSails loft... So many things to do, so little time... When we got back home we immediately started planning our next trip!
Mahalo to the MauiSails family for the fantastic welcome. Looking forward to seeing you again soon. Aloha!
Christophe BEL-29