Xenia reports from Bonaire
5th March 2009
The last 3 months I lived on Bonaire, which is one of the islands of the Dutch Antilles in the Carribean. It has been good to practise freestyle here, and Bonaire has delivered some perfect conditions for windsurfing. I'm here with my sister, and every time it has been windy we have been out in Lac Bay (Sorobon Beach) to enjoy the conditions with the other guys. There is a great network of freestylers here, and we learn a lot from each other as everybody is friendly to help. Sorobon is located at the East coast of the little island, but most of the people live just around the main city Kralendijk. We live in Kralendijk too, and in the morning we bike to the beach. It's a long road (about 15km) but then I have time to think about what I wanna try on the water that day, and the shaking trees makes you want to paddle a little harder on the bike. I like the conditions here, they can be so different. Some days I have been on my 3.7 or 4.2 Legends while others has been good with a powered Loco 4.8 or mellow conditons for my 5.6 Loco. I even went on 3.3 and an 80 litre freestyle board one day. And on the water you find chops, waves and flat water, deep and shallow. There are a lot of good riders here, both visitors and locals. I went sailing with MauiSails team rider Taty over here, who's both active with Freestyle and Slalom. He's a technical freestyler and really fast with the race sail. On the good days we all go out and practise freestyle together and there is a crazy energy on the water, as everybody is pushing. I like it a lot, to windsurf with a big group of friends, - it's the best.
This morning I went out with my 5.6, practising some tricks on my own a little bit further away from the beach than normal. It was quiet, and the wind wasn't blowing too hard. Suddenly a big sea turtle sticks his head out of the water looking at me, and then he dives and is gone again. It's such a short moment where you still catch everything, so cool. When you come from the cold north this is a really beautiful sight, and I pumped a little harder and kept on doing my moves with an even bigger smile. It was a really nice way to be awakened.
Later the wind picked up and we all went sailing again together. I did a move I have been practising for a long time, and it really gave a kick. I was so happy. In the afternoon we went fishing on the surfboards out in the reef. We cruised for a long time, but we only caught some small fishes, which I think was good, as I've heard scary stories about the really big fishes.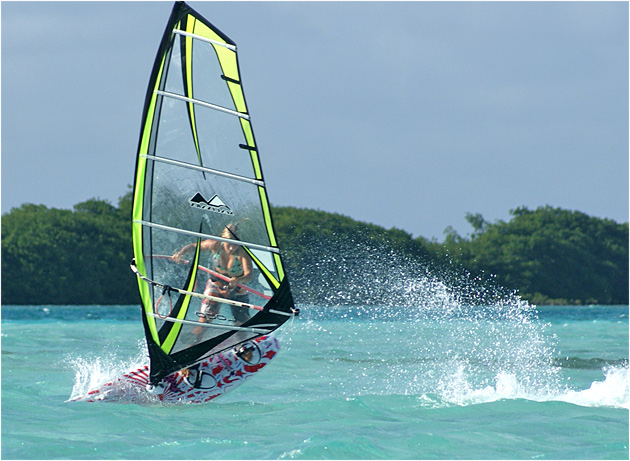 Now I'm almost on my way to Denmark, where a little bit of snow and 1 degree water is waiting, but my friend said they were on 4.2 yesterday, and that sounds nice in my ears.
Aloha from
Xenia