2007 Legend
Side-shore wave


Ride like a Legend - championship performance. Today Kevin Pritchard is displaying all the power and performance of the 2007 MauiSails Legend by continuing to win at World Cup events.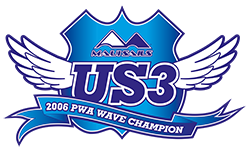 Superior range and upwind ability guarantees that he will be planing sooner, and pointing higher with better speed than his competitors. This translates into wave riding magic, more waves in a day, and the best positioning to score. At MauiSails we understand that wave sails are more than decoration. It's a race for space out there. Don't be held back.

The Legend is perfect in side to offshore conditions, and has an amazing soft feel, with powerful and crisp reaction. Durability assures the design will continue to evolve around a happy core of users who will be inspired and rewarded with creativity in the surf.

A durable molded tack fairing includes an easy access for the attachment of the uphaul, as well as providing rugged chafe resistance. Low profile hard plastic batten tensioners with stainless steel screws are minimized for lightness. Rugged X-Ply™ and high tenacity woven materials maintain designed shape longer in brutal wave conditions.

All Legend sails are made with the highest accuracy in reproduction possible, including the use of line plots, machine cutting, and template assembly to line accuracy. This assures that every one of them will be exactly the same as used by Champion, Kevin Pritchard.

The Legend is designed and tested with MauiSails SRS Wave 100 RDM and SRS Wave 75 RDM masts.
NEW Technical Features for 2007

Lightweight polycarbonate batten tensioners with stainless steel adjuster screws.
PVC Leech protectors (ends of batten pockets).
Tough uphaul and tack handle abrasion resistant detail
High tear strength clew construction
Legend events results
3rd Wave PWA Gran Canaria - Kevin Pritchard
1st Freestyle PWA Fuerteventura - Sarah-Quita Offringa

colours



Specification

Size
Mast
IMCS
Luff
Boom
Head ext.
Downhaul
DH
Head
Battens
Cambers
Cams
Weight
3.3
370
17
357
140
-
0
vario
5
0
3.10
3.7
370
17
367
144
-
0
vario
5
0
3.20
4.0
370
17
390
149
-
0
vario
5
0
3.35
4.2
370
17
398
155
-
0
vario
5
0
3.45
4.5
400
19
404
162
-
0
fixed
5
0
3.60
4.7
400
19
410
165
-
0
fixed
5
0
3.65
5.0
400
19
422
168
-
0
fixed
5
0
3.75
5.3
400
19
430
173
-
0
fixed
5
0
3.80
5.7
430
21
446
184
-
0
fixed
5
0
4.00